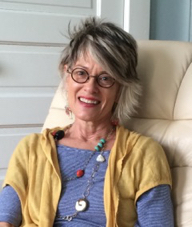 I received my Licensed Addictions Specialist Certification in August 1994. I received my certification as a Group Psychotherapist in March 1997. I became a Licensed Professional Counselor in July 1997. I worked for the Duke Addictions Program for nearly a decade and have been in private practice since 1998. I have been conducting group therapy for more than twenty five years.

My Philosophy of Therapy:

Change occurs when you begin to tell your personal story and own your feelings about it.

Make a personal investment in healing.

Look at personal issues and gain insight.

Examine self-defeating thoughts and behaviors and practice healthier ones.

Discover self-defenses that prevent intimacy and authentic feelings.

Practice self-care.

Challenge self-talk with affirmations.

Remove toxic people from your life.

Gain support from others who are working towards change and healing.

Accept spiritual direction.

Lean skills needed to navigate through life.
I support the twelve-step philosophy of spiritual and personal growth. I have extensive personal and professional knowledge about addictions, codependency, and adult children of alcoholic issues. I use this knowledge base to relate to people in order to better offer hope. I believe most people are generally emotionally healthy but often come from homes where there was inadequate parenting for a variety of reasons. As a result, people suffer with problems such as addictions, depression, anxiety, and other barriers to a full and healthy life. I am interested in helping people overcome family-of-origin issues, addictions, codependency, relationship difficulties, food dependence, and grief and loss issues.

My approach to healing integrates the body, mind, and spirit.

My theoretical approach is eclectic. I believe early childhood learning, thoughts, and behaviors must be examined, understood, and challenged in order to understand how they influence the present. My approaches are derived from Rational Emotive Therapy, Transactional Analysis, and Cognitive Behavioral Therapy. I have trained with Terrance Real, nationally renowned therapist and best selling author and I am a Certified Relational Life Therapist. I attended Pia Mellody's Post Induction Therapy Training in 2013 where I learned the core issues and secondary issues of codependency, tracking the abuse history to determine the work the client will do, inner child integration and feeling reduction work. I also attended specialized training with Pia Melody on Inner Child Integration and Feeling Reduction Work in 2014, 2015, and 2016.

I see
individuals, couples, and families
.
I offer
psychoeducational groups for codependency and trauma
.

I work with people 16 years and older. I offer evening and Saturday appointments.


Insurance

I accept third party reimbursements from:
For those without insurance or choosing not to use it, I can work on a sliding scale fee.