Codependency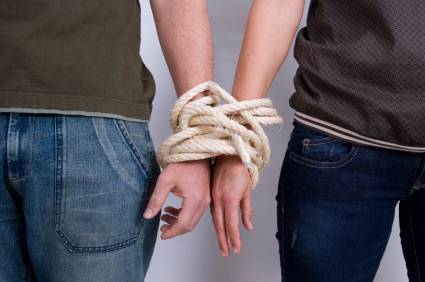 Ginger has trained extensively with Pia Mellody, nationally renowned therapist and trainer, and best selling author of
Facing Codependency
,
Facing Love Addiction
, and the
Intimacy Factor.
Codependency is a chronic, progressive, life-threatening condition that can leave a person vulnerable to addictions, emotional and health issues, unhealthy relationships with emotionally unavailable people, and the unconscious attempt to reenact history in hopes of having a corrective experience. Codependents are known to take emotional and psychological hostages in their relationships.

Most codependent people come from homes where there was inadequate parenting and an inability of the caretakers to take on adult parenting responsibilities. This inability might stem from parental addictions, irresponsibility, mental or emotional disturbance, behavioral problems, health issues, fantasies that a child will solve the parental problems, or emotional, physical, or sexual abuse to name a few. As a result, a child's emotional and physical needs go unmet and they learn at an early age to "give" in order to "receive." They grow up externally referenced by giving, fixing, care-taking, and accomplishing in order to get needs met and to create a sense of self-esteem. Codependents are often said to be human doings rather than human beings.

As a result of a child taking care of their parent's emotional needs growing up, codependents let other people's behavior affect them in unhealthy ways. They become obsessed with others by anticipating needs, reading the emotional atmosphere, and trying to control other people. They control by helplessness, begging, threatening, blaming, manipulation, advice-giving, guilt, or threats. Codependents feel they caused the problems in their family and spend their energy trying to fix it, not knowing that this is an impossible task. Since they had little control in their early life, they hold on to any control they can find, thus becoming control freaks. They feel like victims and have a hard time focusing on and taking care of themselves. The coping strategies they learned in childhood worked for them then, but do not work for them as they enter adulthood.

Codependents tend to come from troubled, repressed, and closed-system families. They grow up without adequate coping strategies to handle stress, anger, fear, loneliness, or disappointment. They have sagging self-esteem issues, an unconscious proclivity to sabotage themselves, an inability to set limits, a tendency to personalize things, an inability to know their needs and wants, or to own and live in their reality. They tend to pick partners who are emotionally unavailable and spend their energy trying to get these partners to love them. They confuse love with pity. They fall in love with people's potential. They take hostages in their relationships or allow themselves to be controlled by others. They either feel inferior or superior to people. They may use sex manipulatively. They rage inwardly (depression) or outwardly (physical abuse). They look for their value in external ways trying to fill the void inside. They tend to find addictions (substances, worry, exercise, food, work, spending, or relationships) to avoid feeling the profound emptiness inside.

As the illness of codependency progresses, people isolate, feel depressed and hopeless, become dishonest, blame others, become ill, and engage in self-destructive activities to avoid pain. They feel a profound sense of loneliness and either avoid people out of fear or become dependent on others and totally lose themselves in the process. They compromise their values as the illness progresses. Excessive worry makes them feel like they are controlling the situation, but it is an illusion; it is only wearing them out and compromising their immune system.

Recovery from codependency provides awareness and hope. It teaches a person to detach with love; to stop reacting and start talking about their feelings; to lower expectations; to set goals; to get honest; to focus on self-love, self-care, and self-forgiveness; to stop taking things personally; to support without enabling; to set limits; to learn empowerment skills; to experience peace, courage, and joy; and to stop playing the rescuer, the persecutor, and/or victim.


I educate clients on how they were set up for codependency and the five core issues they will be working on for life. I teach the skills they will need to navigate successfully through life. My approach in therapy is to gather a thorough family history in order to identify multi-generational problems that have been passed down. I encourage clients to tell their entire story to me so they can see and feel the impact of their pain and grieve their losses. Together we will uncover defenses, behavior patterns, internalized family scripts, and self-defeating messages that prevent people from living fully. We will expose shame, re-write the rules to live by, identify needs and wants, incorporate affirmations, explore spirituality, and learn about barriers to intimacy. As clients identify their core issues, we will formulate a way for them to have a different experience and to see that change is possible. I support attendance at Al-Anon and Codependents Anonymous.

---

If you think you may have a problem with codependency and/or are not sure of the symptoms, circle the issues below that are prominent in your life.


1
Yes
No
I assume responsibility for others' feelings and behavior.

2
Yes
No
I have difficulty identifying and expressing what I am feeling.

3
Yes
No
I am afraid of my own anger and the anger in others.

4
Yes
No
I have difficulty making decisions.

5
Yes
No
I am afraid of being hurt or rejected by others.

6
Yes
No
I minimize or deny how I truly feel.

7
Yes
No
I am afraid to express differing opinions or feelings.

8
Yes
No
I put other people's needs and desires before mine.

9
Yes
No
I question everything I say and never feel good enough.
10
Yes
No
I am a perfectionist and fearful of making mistakes.
11
Yes
No
I am extremely loyal, often remaining in unhealthy situations too long (marriage, family, work,).
12
Yes
No
I have a need for others to like me.
13
Yes
No
I keep score in relationships and am resentful if people do not take my advice or repay me for my kindness.
14
Yes
No
I guess at how others feel and think I am right.
15
Yes
No
I am calm in a crisis.
16
Yes
No
I put aside my own interests in order to do what others want.
17
Yes
No
I do not follow through with decisions or commitments.
18
Yes
No
I feel empty, alone, and different from others a lot of the time.
19
Yes
No
I have stress related health issues.
20
Yes
No
I smile and look "together" when I am hurting or angry.
21
Yes
No
I have compulsive habits to distract myself.
22
Yes
No
I am unable to alter behaviors that I know are self-destructive.
23
Yes
No
I worry a lot about what others think of me.
24
Yes
No
I am unable to say no or to set limits with people.
25
Yes
No
I keep silent to keep the peace and not hurt anyone.
26
Yes
No
I have low self-esteem.
27
Yes
No
I personalize everything around me and think it is my fault.
28
Yes
No
I have difficulty knowing my needs and my wants.
29
Yes
No
I have difficulty owning my reality and living out of it.
30
Yes
No
I either become a love addict or a distancer in intimate relationships.
Please contact me, Ginger Edwards @ (919) 949-3302 or ginger@gingeroffershope.com
I am based in Durham NC.